Blessed to Serve – Holiday Giving with Leap Yoga & Powerhouse Ministries 
Happy Thanksgiving
Bring a gift for our Holiday Giving Drive and take a Thanksgiving Class for free.
Thanksgiving Yoga Thursday:
8:00 – 9:00am Kaiut with Molly
9.15 -10.30am Flow with Sheri
Friday: 4.30 LeapPower cancelled – all else unchanged.
Sunday: 3.45 Prenatal cancelled – all else unchanged.
Click image to register: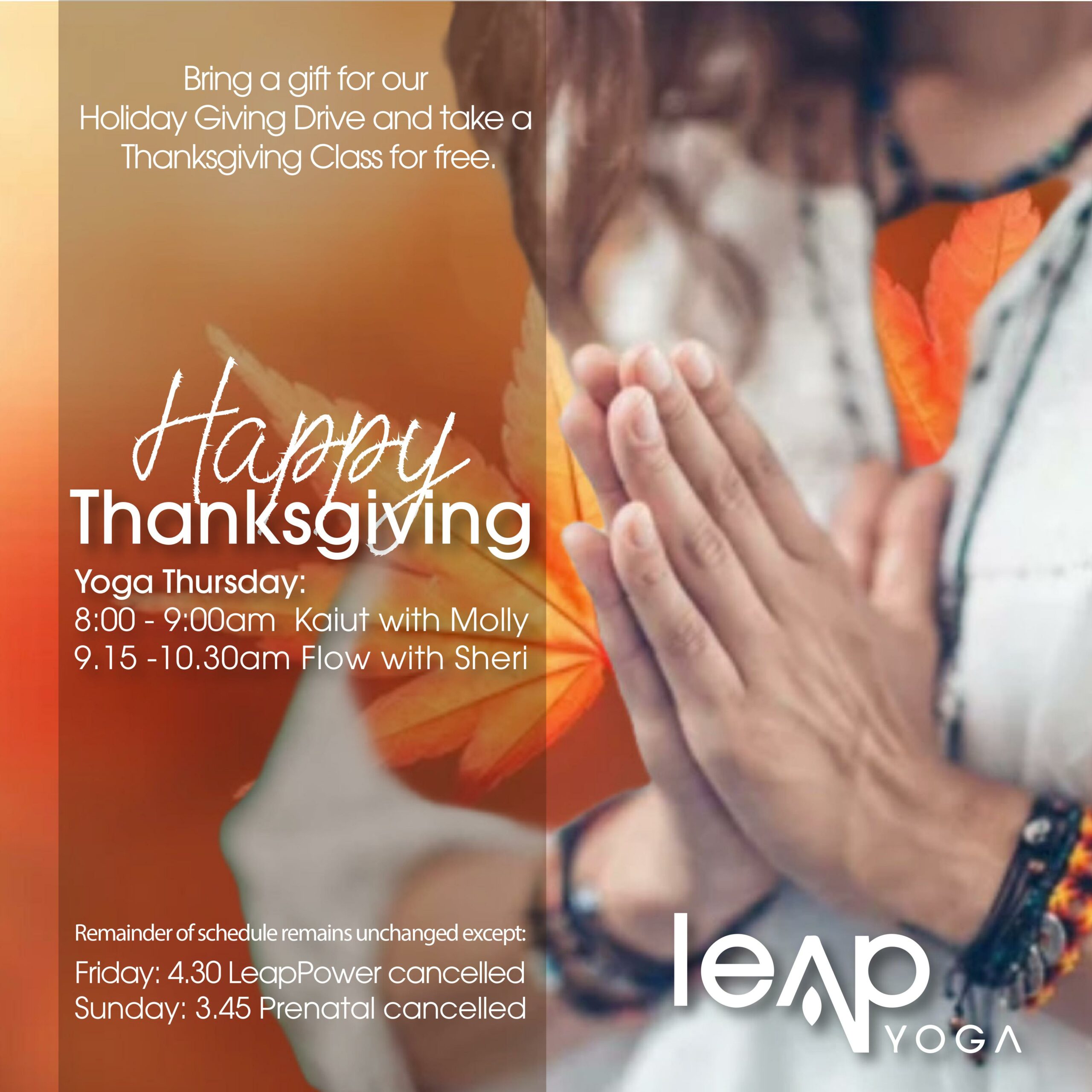 Holiday Season Giving
It's that time of the year again!  Are you looking for a giving project for you or your family to participate in this year?
Once again Leap yogis are partnering with Powerhouse Ministries to brighten the holidays for those in need.
Here are two ways to participate:
Fill a Senior Gift Bag with supplies and gifts for a local senior who is isolated, struggling financially, or dealing with chronic disease. Gift bags and instructions are located in the lobby at Leap. Pick one up today
We also collecting unwrapped gifts for adult men and women in need. There is a box in the lobby at Leap where you can leave your gifts.
Suggested Gifts for Women:
Beauty/Bath Sets
Pans (fry, sauce and pasta pan
Make Up (not foundation)
Cookie sheets, 13×9 pans
Blow Dryers/Curling Irons
Small Kitchen appliances (Toasters,
Coffee Makers blenders, Mixer, Crock Pot)
Pajamas
Slippers
Throws (Not Handmade)
Sweaters and Fleece Tops (AIl Sizes)
Mugs
Insulated Travel Cups (hot and cold)
Hoodies (All sizes)
Kitchen Towels, Pot Holders, etc.
Wallets/Wristlets
Can Openers, Cooking Utensils (sets)
Suggested Gifts for Men:
Small Workbenches
Cologne Gift Sets
Mechanics Tool Sets
Shaving Kits
Cordless Ratchet Wrenches
Small Tool Sets
Bench Grinders
Flashlights
Magnetic Screwdriver Sets
Watches
Oscillating Multi Tool Kits
Work Gloves
Socket Sets
Headphones/Earbuds
Routers
Clothes
Jack Stands
Coffee/Thermal Mugs
Dress Socks
Water Bottles
Hats/Beanies
Drop off Senior Gift Bags and Individual Gifts at Leap by December 4th and we will be sure your special offering gets to Santa so he can deliver it on time!