Our Yoga Teachers are beautiful beings devoted to their Yoga practice, both on and off the mat. Each has completed at least a 100 hour teaching program, with many having completed multiple trainings.  Truly inspiring is their commitment to growth.  Our Leap credo is that as we evolve, everyone around us also evolves.  So join us on this amazing adventure and let's evolve together!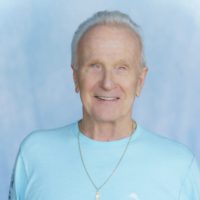 Butch
A Leap owner, Butch started his career by serving his country in the Navy and then as a business owner, followed by over 20 years in the radio business and almost 10 in the fitness industries an aerobics and step instructor, it goes without saying that Butch has a breadth of life experiences that gives him a tremendous appreciation for life's challenges.Butch is passionate about helping people to reach down deep and be their best.  Yoga has been life changing for Butch, helping him to overcome incredible pain caused by scoliosis that he has had since birth.  He looks forward to guiding others through their journey of discovery to find out how yoga can make a difference their lives as well.
Michéal
A Leap owner, Michéal has always been passionate about fitness starting back in High School and College as a cross country runner, track & field athlete and powder puff football running back.  That followed by over 25 years in the fitness industry teaching aerobics side by side with husband, Butch, for ten of those years which evolved into her love of the health benefits of yoga starting with Bikram, Power Vinyasa and now Kaiut yoga.
Michéal believes strongly in the power of Kaiut yoga helping students navigate and lessen the impact of stresses put on our bodies over time due to over use, lack of use, sports injuries or sometimes just plain aging of the body over time.    Miche'al has attended over 700 hours of in-person training with Kaiut Yoga founder, Francisco Kaiut, and has witnessed the amazing effects Kaiut yoga can have increasing overall mobility and joint health for virtually EVERY BODY type.
Michéal feels Kaiut yoga is like a "BIG DRINK OF WATER"…nourishing and providing the PERFECT balance for your body as it works in tandem with your other fitness routines.  Michéal believes life is a journey and the best way to lengthen and improve that journey is to take care of that vessel we call our "BODY"! Our joint health plays a HUGE roll in the quality of that journey…which is what Kaiut yoga is all about and why Michéal is so passionate about you experiencing the benefits you can gain from this style of yoga.  Michéal looks forward to guiding you through this amazing practice to maximize the benefits  it can provide YOUR BODY…recognizing that each of us has taken a different path to arrive to where we are today she knows each person will benefit in varying ways.
Cindi
A Leap owner, Cindi has always been highly active in sports, starting from an early age.  Her love of the water  enabled water sports such as swimming and water skiing as well as  pursuing high school cheer.  With fitness always a priority her interests expanded to aerobics, step, and a developing passion for spin.  Now a regular hiker and avid snow skier.
Cindi's love for yoga has developed over the past 15 years or so.  With over 600 hours of teacher training in Kaiut from founder Francisco Kaiut himself, Cindi enjoys championing the benefits of all forms of Yoga and is a familiar face at Leap.
Her passion for Kaiut Yoga has developed into her becoming a regular Leap Kaiut teacher.  Now an avid ambassador for the huge health improvements the regular practice of Kaiut can bring, restoring mobility, strength, improving flexibility and significantly contributing to injury recovery.
See Leap's schedule for Cindi's classes and email cindi@lepyoga.net for further information or private lessons.
Stacy
A Leap owner, Stacy's love of yoga continues to grow as she observes the transformational effects a regular yoga practice has on students, community, and within her own life. "Strengthening the body through yoga is great. Add to that strengthening mind, spirit, and community. This brings healing and wholeness. In this place, anything is possible."
Stacy has received a good deal of her training through Rusty Wells of Urban Flow Yoga in San Francisco. Focusing on the Bhakti tradition, one of the four paths of yoga, music and devotion play a supporting role in all of Stacy's classes. Bhakti is often described as the yogic path of devotion, emotion, love, compassion, and service to God and others.
Stacy is a 500-RYT through Yoga Alliance and currently leads 200 & 500HR Yoga Teacher Trainings. She also hosts domestic and international yoga retreats and is a co-owner at Leap Yoga Studio in Folsom, California. She has also studied with Michael Watson of Bermuda, Karen Miscall-Bannon of Embodyoga, Stephanie Snyder, and is influenced by the teachings of Sri Dharma Mittra, NYC, and Richard Rosen of Berkeley, California. Another great teacher who Stacy admires and has studied under is Mahendra Briksha of San Francisco. Mahandra Briksha specializes in breathwork and wellness cuisine.
In addition to vinyasa, yin, and Kaiut yoga, Stacy also offers educational workshops focusing on "Practicing Kitchen Yoga" and the preparation of whole and living foods. She specializes in guided cleanses and offers private yoga sessions, nutritional consultations, and guided group cleanses. See stacywyoga.com for Stacy's schedule and additional information.
Gena
Gena Foreman's, (500 ERYT) passion for yoga began nearly 25 years ago when she took her first class at the local gym. An avid runner and mountain biker she came to yoga to "stretch". The feeling of peace, quiet and strength she experienced after class started to weave itself into every facet of her life.
In 2004, she completed her first yoga training. Her classes are a balanced fusion of informed, flow style yoga with attention to breath (pranayama) and healthy energetic alignment.  Her instructions are clear and concise, offering modifications to address injuries or the special needs of her students.  Her fundamental teaching is in Forrest Yoga, yet she is inspired by many teachers and styles.
Gena has experience working with corporations, professional athletes, incarcerated and marginalized youth, addiction recovery, and is currently on staff with Dignity Health as the lead instructor with the Multiple Sclerosis Achievement Center.
In addition to teaching weekly classes, Gena leads retreats, immersions, 200 hour Yoga Alliance Teacher Trainings and a Yoga Nidra certification course.  She was voted one of the best yoga teachers by Style Magazine for the Folsom and El Dorado Hills area. See genaforeman.com for Gena's schedule and additional information.
Aside from teaching yoga, Gena enjoys hiking, traveling, spending time with family and donuts!
Colette
Like many modern yogis, Colette's first exposure to yoga was a physical attraction to the benefits of asana. While asana helped her to grow stronger, more flexible, and balanced, it was the meditative aspects of the practice that opened her mind to something far more meaningful.
In 2013, abrupt life changes inspired her to move more deeply into the teachings. She pursued yoga teacher training while healing at the renowned Mount Madonna Center founded by Baba Hari Dass. The deeply spiritual setting of the Mount Madonna ashram opened her heart and mind to yoga beyond asana. At this time she also worked closely with Dr. Ryan Strong learning and applying the profound healing practices of Ayurveda, the sister science of Yoga, for her personal health journey. From this foundation in Babaji's traditional Hatha lineage and her personal experience with Ayurveda, she gravitated naturally to modalities that emphasize the subtle effects of the yoga postures on the body. She developed a passion for the quiet practices of Kaiut, Yin, and Restorative yoga, studying with Francisco Kaiut, Paul Grilley, Sarah Powers and Judith Lasater.
The content of Colette's classes is based on her personal integration of the great teachings she had the privilege to study. Colette primarily teaches Kaiut, Yin, and Restorative yoga. Her class is a safe and sacred container for both the novice and the seasoned yogi to release, let go, and just be. She approaches yoga from her heart, as a way to spread positive energy and practice compassion, knowing that we all have a story and a journey, which includes both joy and suffering.
Training and Retreats: YTT200–Mount Madonna Institute, Watsonville, CA, July 2014 —Restorative Yoga teacher training with Judith Lasater, San Francisco, July 2015 (40 hrs) —Yin Yoga retreat with Sarah Powers and Paul Grilley, Esalen, January 2016 (5 day) —Yin Yoga teacher training with Paul Grilley, Soquel, CA March 2017 (50 hours) —Kriya Yoga retreat with Roy Eugene Davis, GA, May 2017 (7 day) —Kaiut Yoga Teacher Training, Folsom, CA, July 2019, Jan 2020, May 2021
Molly
After a 20 plus year career as an Urban Planner, Molly is fortunate to be able to embrace a second passion. She has practiced yoga for nearly as long as her urban planning career. About eight years ago, Molly took her first yin class. Upon losing her first passion of planning, Molly took a giant leap (on a bit of a lark and a challenge by her teacher) and went to a yin yoga teacher training in Sweden. Never intending to teach, just to learn and to feel her transitions, Molly returned home and got the phone call from a studio owner. So…she started teaching. And she realized that selfishly, she had a new passion. Molly subsequently went to an additional yin training in France and found that she wanted to learn even more.
Shortly thereafter, Molly met Karen Miscall Bannon and started learning about embodiment. That is to say feeling yoga from the inside. Not just the poses but deeper, the whys, the more enriched understanding of the body and Molly felt complete; it was enough. Molly had been trained in yin by one the top four teachers internationally and she is able to experience and study Embody yoga with one of the originators. How very fortunate. At this point, Molly has completed 125 hours of strict yin training, 300+ hours of embodiment, and 65 hours of vinyasa and yin assisting.
But not quite satisfied. Upon the suggestion of her teacher again, Molly leapt to study Kaiut yoga. Knowing absolutely nothing about it, she showed up in Toronto in mid-winter for a new adventure. And then she showed up again and again completing a 300 hour Kaiut Yoga certification. And Kaiut Yoga has put it all together for Molly. It combines yin and vinyasa in the true embodiment. This yoga allows and encourages you to feel from the inside, it is challenging, but meditative and fully meets you where you are. And you can do it your whole life letting the passion live on.
Molly feels incredibly fortunate for the opportunities as she continues to learn from her students, teachers, and practice. She feels so lucky to be able to be a guide to others perhaps providing some relief or just some peace in their day.
Amy
Bio information arriving soon!
Timothy
Timothy's joy and passion for yoga clearly extend far beyond his teachings on the mat and in the studio, through understanding both the art and science of living yoga.
A native of Upstate New York, and recent transplant from Aspen, CO, Timothy began his yoga journey over 20 years ago while recovering from both physical and emotional upheaval. His personal practice naturally evolved into teaching, where he seamlessly weaved a symbiotic and influential yoga experience into life. As both a follower and fan of master yogis Richard Freeman, Bryan/Johnny Kest, Baron Baptiste and Ana Forrest, he respects the lineage of those who came before. His creed says it completely…"always a teacher, always a student."
Although formally trained in Ashtanga yoga, he draws from all forms of yoga, resulting in his own creative and inspirational style. Teaching primarily from traditional yoga philosophy, he leads an athletic, light hearted (and often humorous) class open to all levels-he emphatically welcomes new students, always. From breathwork, to developing prana, to inventive flow sequencing, discovering a unique experience becomes inevitable.
Timothy also holds a Masters and Doctorate in Physical Therapy and welcomes discussion of utilizing yoga to move from injury to health. He invites you to come practice, play, laugh and enjoy an invigorating and refreshing yoga experience with him.
Sheri
Sheri is an experienced yoga instructor and longtime student. She found yoga in the early 2000's and has been hooked ever since.
Sheri has studied with many teachers and is known to blend elements of Embodyoga, Bhakti, Prana vinyasa and Hatha yoga into her classes. She has also learned through years of experience from her own personal practice and believes it's an integral part of her overall well-being. She finds it also serves as a source of inspiration for her teaching. Her classes are often thematic and aim to integrate subtle alignment cues with breath and body awareness. She enjoys teaching classes that are energetic, playful, and exploratory, yet she emphasizes being mindful and using proper alignment and form in order to avoid injury. She creates a space that is safe for exploration and growth and gently guides her students to trust their inner teacher while supporting them on their journey.
In her spare time, she enjoys adventure, hiking, cooking, practicing yoga, reading, serving her community, music/concerts, having fun, and spending time with her loved ones.
Gaya
Gaya is a yoga therapist and founder of Gaya's Earth & Spirit Band.. She
studied yoga and yoga philosophy while living at a small ashram, Ananda
Seva, in Santa Rosa. Her asana teaching style is deeply based in drawing
awareness to the internal body experience and quieting the mind. She has
studied Indian classical music with Kiranjot Kaur and Gina Sala and has
recorded music and meditations with Grammy-nominated producer Ben Leinbach.
She has published meditations and music on Insight Timer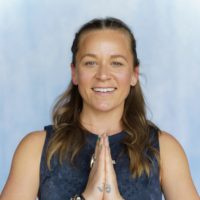 Carlie
Carlie took her first ever yoga class right here at Leap in 2014. She immediately fell in love with the asana practice and quickly began to explore the practice beyond the mat. With a 200hr YTT program, and  accumulating continuing education regularly she is a dedicated student first to this practice.
Carlie is passionate for yoga and holds deep reverence for the yoga philosophy. She is playful and fun but deeply devoted to the work, the practice, and the depth of this beautiful journey. She holds space and encourages her students to release all expectations and let yoga do the work.
Melissa
Melissa attended her first yoga class in 2001 and has been a devoted student ever since. Initially drawn to the physical benefits of asana, she quickly discovered that the balance between peaceful serenity and focused determination experienced on the mat could be a way of life off the mat. Her passion for yoga deepened when she discovered her yoga home at Leap, where she completed a 200-HR YTT and Embodied Yin Immersion YTT.
Melissa's classes empower students to be fully present in their bodies, find their own edge and honor where each individual is in the moment. Her philosophy centers on the practice of staying present in challenging poses and connecting to breath. Through conscious breathing, concise alignment cues and accessible yet challenging sequences, she aims to create space for students to cultivate inner peace, quiet their busy minds and build confidence.
Rochelle
After health issues, Rochelle began her yogic journey over two decades ago with private yoga classes before venturing into a yoga studio.  Yoga changed her life and health.  Appreciating the benefits of various forms of yoga she gravitated toward Kundalini Yoga due to the balance of asana, movement, prana, mantra, sound therapy and meditation.  Yoga has been essential in her life to balance career, family and the ever evolving external dynamics of life.
Rochelle is a KRI Level 2 trained teacher and Reiki Master.  She has been teaching yoga and providing symphonic gong sound therapy in the traditional method for almost 15 years.
Elise
Elise is an E-RYT 200 and teaches a variety of styles including vinyasa, yin, hot 26,  Buti® yoga, and yoga Nidra.
Her educators include Gena Foreman, Stacy Whittingham, Karen Miscall-Bannon, James Kapicka, and Corinne Andrews. Seeking to gain deeper insight in philosophy and anatomy, Elise will be enrolling in a 300 hour yoga teacher training in the Fall of 2023 to continue her studies.
Inspired by dance and art, Elise facilitates movement that encourages mindfulness, self-discovery, and expression.  As an advocate for meditation and yoga as a sources of healing, Elise teaches from a place of compassion, inclusivity, and service.
Carissa
Carissa often can be heard saying, "Yoga should be fun!", and she's not wrong – the joyfulness of a yoga practice is both happily contagious and courageous. Carissa found her way into a studio and onto a mat in 2011; since then, her journey with yoga has been a gentle source of grounding, a welcome journey into learning, and an indescribably rich blessing. She earned her 200-HR YTT in 2018 and completed her 300-HR YTT at Leap in 2020; she has been actively teaching since 2018 and continues to grow both her personal practice and her teaching practice. When Carissa is not on her mat, you will find her in her classroom at her local high school, teaching English and working in special bits of mindfulness, meditation, and breathwork.
For Carissa, yoga is about coming into a relationship with oneself; it is a playful exploration of one's whole self, including breath, body, heart, mind, and more. She believes yoga is a deeply personal and not performative practice, and her classes encourage her students to come back to their inner voice, authentic power, and playful natures; she empowers her students to breathe deeply and find their "sweet and steady" on the mat.  Her classes are rooted in intentional alignment, personalization of the practice in one's own experience, and the beautiful yielding to a profound connection with something so much bigger than ourselves.
Sheree
My yoga practice started when I was 15 years old in a Physical Education class at Ponderosa High School. I was immediately drawn to the peacefulness found in the effortless effort. Over the next 11 years I "flowed" in and out of practice, but always being drawn to the glowing feeling that comes after practicing. I made yoga a constant in my life during the pregnancy of my first daughter 7 years ago (at Leap!). Now a mother of 2, their joy practicing yoga together as a family motivates me in every way possible.
Completing a 200HR yoga teacher training started out as a bucket list item for me. After years of self-doubt, finally loving my own body, and getting out of my own head, I took the leap. I started with a love for learning and understanding yoga more but I soon realized teaching is one small way I can contribute to a more peaceful existence in this world.
I completed my Kids Yoga teacher training in January 2022 and then my 200HR Transformational Leadership training with Stacy and Gina in February 2022. I have continued my education to include Chair, Prenatal and Postpartum yoga. My formal education includes a Masters in Business Administration and a Bachelors in Organizational Leadership with an emphasis on non-profit organizations.
I am passionate about diversity, equity, and inclusion in all spaces – including my students! The shape of our bodies shouldn't hold us back from the practice of yoga. I love exploring how we can modify "traditional" poses to meet each bodies need. YOGA IS FOR ALL BODIES! My constant enthusiasm in positivity is only matched by my verve for living a peaceful life. I hope our paths cross some day soon…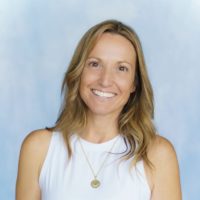 Kate
I took my first yoga class more than 20 years ago, but raising kids, caring for aging family members, and volunteering in my community was how I chose to spend most of my time. My focus was in service of others and my health and wellness began to decline as I tried to continue pouring from an empty cup. This realization is what lead me to develop a stronger and more consistent practice. I focused on fine tuning my alignment in poses, and linking breath with movement for years, but I still approached yoga primarily as a physical practice.
In 2019, I decided to take a 200-hr YTT to better understand my asana practice. This was life changing for me. During my training I discovered what my practice had been lacking. The belief that yoga is more than movement, more than breath. What I practiced on my mat started to show up in my everyday life. I began to live in yoga. To me, living in yoga means living in kindness and compassion.
Upon completion of my training, I jumped right into teaching vinyasa, slow flow, vin yin, and restorative yoga classes. To further my understanding of the benefits of yin and restorative yoga, I completed an additional 100 hour training of Advance Yin and Restorative Yoga. While I still enjoy a personal practice of vinyasa, I've fallen in love with practicing and teaching yin yoga. I appreciate how yin yoga cultivates stillness, softness, and acceptance by safely exercising the deeper joint and connective tissues to encourage opening and the flow of energy within the body. I feel a tremendous amount of gratitude for the opportunity I have to share this beautiful experience with others.
Sam
Sam Scholtes: BS, CSCS, has been a personal trainer since 1999. He completed his first training credential as a Health and Fitness Instructor from the American College of Sports Medicine during his senior year at Cal Poly, San Luis Obispo, while completing his degree in Biological Sciences. His style integrates scientific Western strength and conditioning with the more traditional esoteric arts of Qi Gong, Yoga and Thai Yoga Therapy.
Sam goes to the source for his trainings; studying Yoga in India, Tai Chi in China and Thai Yoga Therapy in Thailand. Sam goes to these lengths because of his intrinsic understanding that the spirit of the source is contained within the cultural context that bred it, much like the heart gives leadership to the head. He feels that though his education gives structure to his work, it is his intuition and feeling that guides him. He blends effortlessly the fruits of his discipline into a banquet that feeds the body and nourishes the heart and soul.
"Enjoying the process and having fun is what my style of training is all about! The results you earn blossom directly from your joy of learning and experiencing just what your body, mind and spirit are capable of accomplishing!"
Gina
We are all in a continuous state of busyness, including our children. Busy bodies and busy schedules leading to busy minds. Yoga can be a helpful tool to navigate the busy and bring us more to a state of calmness and mindfulness. In this class we will build strength, self-confidence, balance, play games, practice meditation, get those wiggles out, as well as rest the body and mind.
Come have fun with us!
Lynette
Lynnettes love for yoga has deepened over two decades. She leads practices that combine embodiment of asana, pranayama & meditation. By teaching classes that are inclusive for all levels & abilities she encourages you to cultivate an awareness so that you can blossom into ownership of your own practice. Offerings are drawn from her own practice as well as her 500 + hour e-RYT certification in various styles of yoga.