[hr]
Clear your mind, open your heart and nourish your soul this November in Sayulita, Mexico at the Haramara Retreat Resort. Voted one of the 10 best yoga retreats in the world by Yoga Journal, this is the perfect place to take a "time out" from your busy life to reconnect to your beautiful being. Cathy Connors, one of the leaders of the retreat, believes that our natural state is one of joy, peace and love. However, the stressors of daily life sometimes prevent us from seeing that. This retreat will give you the opportunity to reconnect with yourself, others and your spirit. Give yourself the gift of discovering the beauty, power and strength that lives within you.
This will be a week of filling up with the things that nourish your body, and spirit such as nature, yoga, whole foods, and community. As you do this, the things that no longer serve you will become more apparent and naturally fall away.
NOURISHMENT ON EVERY LEVEL
Just like your physical body and mental well-being—your soul is important to nourish. It has a big impact on energy, mood, and overall wellness, and it's the key to approaching life and yourself with a sense of calm and acceptance.
Your week of nourishment will include:
One morning and one afternoon yoga class per day
Daily guided meditation and chanting
Group workshops and discussion
Specially prepared vegetarian meals
A private cooking class
A private beach for sun, sand, and solitude
Quiet time to sit down and read, enjoy a drink, write in your journal, or connect with new and old friends on the terrace.
A hike through the property with spectacular views of the Sierra Mountains and the Pacific Ocean.
Exploring the beautiful and inviting town of Sayulita, Mexico
All meals and lodging included in the cost
[hr]
Dates: November 23-29 (arrive on 23rd/leave on 29th)
Room rates for double occupancy (price includes meals)
$1395 if you sign up prior to July 30th
$1695 after July 30th
Room rates for single occupancy (price includes meals)
$1895 prior to July 30th
$2195 after July 30th
**Space is limited so reserve your spot today. $500 deposit to hold your space.
[hr]
Extras you can buy prior to the trip:

$100 for an energetic healing session (contact cathy@leapoga.net for more details)
$100 for a nutritional consultation session (contact donna@leapyoga.net for more details)
$150 if you buy both
$50 for a surf lesson with Robert Wenzler
Spa treatments are available including a soothing massage, restorative treatment, manicure, pedicure, facial or complete body scrub to ease away your every care
[hr]


Typical day includes:
Morning Meditation and Yoga
Breakfast & free time
Afternoon workshop or adventure (hike/surf)
Lunch & free time
Evening Yoga
Dinner
[hr]
Dr. Cathy Connors is the co-owner of Leap Yoga, energy worker/healer, yoga teacher and psychologist.  Cathy has worked with many people over the years in both group and individual settings. She brings this experience, as well as her own healing process, to the work she does.  Cathy sees beauty in every person she meets and truly believes that we all have the ability to live a life filled with love, joy, peace and truth.  Although everyone has a very individual journey toward reaching that end, Cathy know how valuable it can be to have teachers, mentors, friends and family to support you on this journey of healing.  She views herself as a mentor who can guide you, support you, and uplift you as you move toward total health and wellness.
Vist her website for more information www.warriorheartconsulting.com or www.leapyoga.net
Donna Raines is a Certified Holistic Health Coach and yoga instructor. Whether she's leading a workshop, working one-on-one with a client, or leading a powerful yoga class, her focus is on mindfulness, compassion and self-acceptance. Donna works with clients to explore the emotional components and triggers that cause us to gravitate towards food when we are truly in need of other types of nourishment – love, connection, purpose, spirituality, movement, and fulfillment. Donna will support you to develop an inner awareness and provide tools that empower you to make healthy choices, discovering what truly feeds you with a combination of whole food, meditation, mindfulness, and yoga.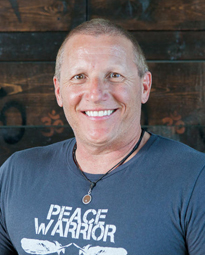 Robert Wenzler, yoga teacher, avid surfer and professional photographer will be joining us throughout your stay to assist during yoga classes, chant and provide live drumming.