ARE YOU READY?
Join Leap's Teacher Training this September and see how 200 hours can change your life.
This will be Corey Mitchell's and Cathy Connors' third teacher training at Leap. They both bring their experience of teaching and leading transformational programs to make this training an enriching and powerful experience. (see below for complete bio)
[hr]
In this program you will:
Learn how to teach a powerful, grounded, energizing, inspirational power vinyasa yoga class.
Find your authentic, true voice as a person & teacher.
Learn about yoga philosophy, hisotry, and the 8 limb path.
Learn how to assist a yoga class.
Yoga alignment and anatomy
Breathwork (pranayama) and meditation practices.
The impact of yoga on the subtle body.
What it inludes:
6 weekends and 1 retreat weekend.
Students will be given a 40 day Sadhana practice during the training to complete.
Guided Cleanse Week and detox flow class led by Stacy Whittingham
Other guest teachers will be announced soon
Training Manual/books
[hr]
There are 8760 hours in a year. How do you want to spend your time?
Teacher training will take up just .0001 percent of your time this year. But you will stay connected to those you meet in teacher training for many years and your life will be transformed for sure.
200 hour RYT Certificate (upon completion)
6 weekends plus a retreat weekend- Thursday's & Friday's 6-10 pm, Saturday's & Sunday's 8-5 pm
 September 4-7
 September 25-28
 October 9-12
 October 16-19
 November 6-9
November 13-16
December 5-7: Retreat
[hr]
Cost.
$3200. $2800 if paid by July 31, 2014. $500 deposit due upon signing up and full amount due by the start of the program. Please inquire for additional payment options.
Email Cathy@leapyoga.net for further information and an application.
[hr]
Teachers: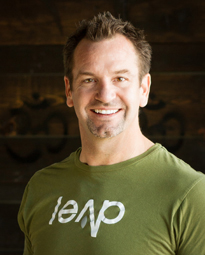 [button_border_dark] Teacher Bios[/button_border_dark]