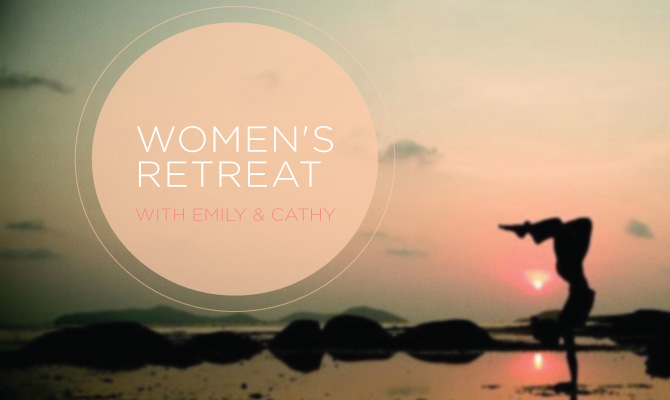 October 17-19 – **Sign up by August 15th
Join Teachers and Soul Sisters Emily McGill and Cathy Connors for A weekend of Truth, Empowerment and a Splash of fun.
As women, we are natural caretakers, and although this is a great quality, it can sometimes come at a high cost. The attention to everyone else's needs often leaves us depleted and exhausted.
Emily and Cathy believe it is important to take a "time out" from your life to re-charge your battery and fill yourself up with things that nourish your mind, body and spirit. That is what this weekend is all about; 'filling your cup' so that you can leave the weekend feeling refreshed, alive, peaceful and empowered; with tools you can use to keep that feeling present in your life.
[hr]
What the weekend includes:
Workshops, discussion, yoga, meditation, chanting/mantra, hiking and self discovery.
2 night stay in a shared suite (*for an extra cost you can request your own room)
Dinner on Friday night, 3 meals on Saturday and breakfast and lunch on Sunday.
Arrive at 1:00 pm on Friday and leave Sunday at 2 pm
Location: Asilomar, a refuge by the sea, in Pacific Grove, Ca.
[hr]
Investment $650 or $599 if sign up by August 1st – **Sign up by August 15th
Invest in yourself this Fall and see how that can positively impact you and everyone around you.
Contact Cathy at cathy@leapyoga.net or Emily at emilymcgill@me.com for more information.